Well we have been quiet havent we?
But fear not! Summer is finally approaching and for the first time, we feel like the weather is finally on our side. Okay, so the sunshine isnt going to last, but heck, thats not going to stop us getting involved in the garden decor scene and neither should it you.
Outdoor fireplaces have been getting cheaper and more accessible for a while now, with chimineas at long last sweeping back into fashion. Easy to set up and impressive looking, these tall, Mexican-style fires are an effective and inexpensive way to spice up your garden.
Chimineas are basically large, pear shaped pots, with elongated tops and a hollow centre in the middle which houses a fire, as well as the wood/coal/biofuel used to feed the flames. Chimineas were supposedly invented hundreds, if not thousands of years ago in southern Mexico. Clay was dug from riverbeds and moulded into crude pots, which were heated in makeshift kilns. The result were large, distinctly shaped pots that could be used for both campfire heating and cooking food.
This ancient tradition has survived for centuries, and has now resurfaced as a stylish and practical way to both decorate gardens and host barbecues. Having a chiminea in the modern day has a great number of advantages, including the following:
1. They are a great source of outdoor heating.
2. They can make a beautiful focal point to gather around, especially in the evening.
3. They are Relatively inexpensive.
4. They are easy to set up and light.
5. Low maintenance – just purchase a cover for rainy days and you can leave them outside all year!
6. Safety – many offer fire grates to cover the flame.
7. Many chimineas can also be used to barbecue food.
There are a great variety of styles, shapes, fuel types and materials to choose from.
One thing that has changed since ancient times is the sheer variety of Chimineas that are avilable . From clay to gigantic cast iron behemoths, you have a couple to decide between and below is a basic breakdown of some of the more common varieties.
1. Mexican Clay Chimineas
Definitely one of our favourites, clay chimineas are usually based on the original classic Mexican design. We really love the way the clay gives the shape and colour an irregular, rustic look, imbuing it with an almost organic quality that makes it perfect for outside use. These types of chiminea, in true Mexican fashion, often make great use of colour and texture, and so are perfect for pairing up with an equally colourful garden, or for giving some spark to a dull one.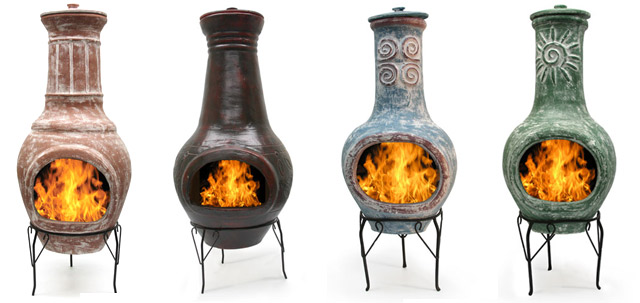 2. Cast Iron Chiminea
Bigger, bolder, and much more cast iron-y than their clay counterpart, cast iron chimineas were developed as an alternative to the classic design. Apart from having a more dramatic and formidable appearance, cast iron chimineas are much more durable than any other type of chiminea, and are able to withstand higher temperatures for much longer. They are also often assembled in pieces using nuts and bolts, meaning transportation and delivery of them is often easier. If you feel your garden is lacking in character or could do with a strong focal point, a cast iron chiminea would be ideal.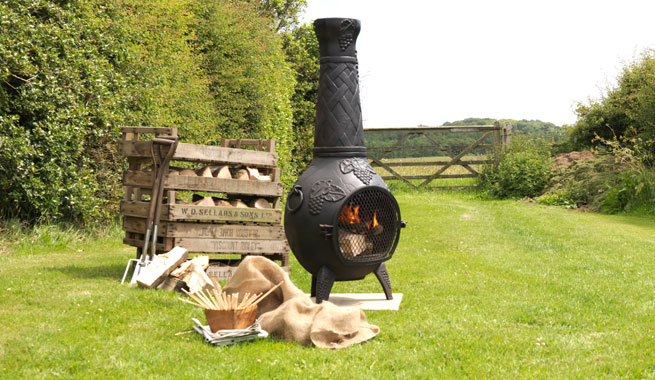 So, as you can see, chimineas can be beautiful, and if selected properly will completely change the look and feel of your garden. If you feel that a chiminea is for you, then why not check out our brand new range here!