Buying a Gas Fire!
---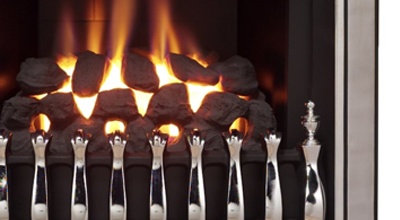 Picking out the best gas fire to suit your needs can seem like a daunting task; however, you can be assured that we have models available for all tastes and budgets. The following information should certainly help you in your quest for an ideal fire that ticks all the boxes.
Adam Gas Fires!
---
The Adam Helios & Adam Blenheim slimline gas fire is a new venture and these fires boast an impressive heat output of 3.1Kw and they are easy to ignite and control with the manual control function. The Adam Helios is supplied with a contemporary pebble bed with a brushed steel finish whereas the Adam Blenheim is supplied with a coal bed and has a brass finish. Both gas fires are suitable for pre-cast, class 1 and class 2 flues and we can certainly guarantee that you won't find any gas fire cheaper online!
Valor Gas Fires!
---
Since developing the first radiant gas fire in 1967, not only did Valor go on to expand the market with the first balanced flue fire in 1973, they followed with the first ever living flame gas fire – the Valorflame – in 1978, then by 1982, the Valor 'Homeflame' was the a bestselling gas fire in the UK with 70% efficiency. Valor continued to expand their gas fire portfolio with the new high efficiency 'Homeflame' range and continue to do so to this day..
Crystal Gas Fires!
---
Starting up 1990 in Liverpool Crystal Fires have gone from strength to strength, winning awards on the way for their original and innovative designs. 27 years on and Crystal Fires are one of the market leaders due to an extensive range of contemporary and traditional living flame gas fires that are perfect for the vintage and modern home.
Flavel Gas Fires!
---
Flavel has always had a reputation as a manufacturer of some of the most efficient fires on the market. Now with the introduction of their high efficiency "HE" and "Plus" ranges of products: exceptional heat output combined with lower running costs, a Flavel fire is an exceptional choice. Flavel has invested in developing the technology in their fires to meet the key objectives of producing a gas fires that save energy and as a result help to keep costs down.
Outset Gas Fires!
---
Not so long ago we dived into the market for traditional outset gas fires. We realised that there was such a high demand for this type of fire, yet it is still believed that outset fires are outdated! But, they are not and they are here to stay, with their beautiful flame pictures which offer fantastic heat output and control they stand proud in to the room, allowing a more effective use of heat.